Commercial Grade Water Coolers for Everyday Use!
iBottleLess™ water cooler systems are constructed for heavy commercial use, but perfectly designed and priced for your everyday home or business needs. Each cooler is certified for 1,200 gallons, so you can expect your cooler to last 5-7 years when properly maintained in an office or home setting.
Key Features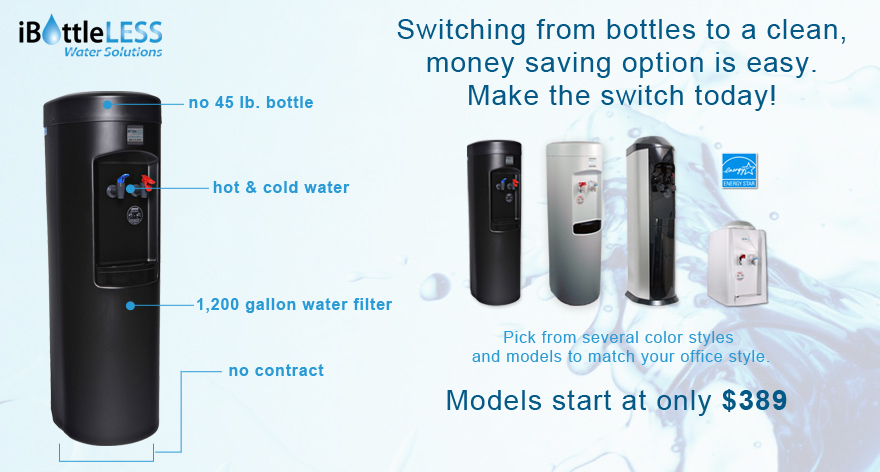 Commercial Grade Compressor- High-efficiency compressor ensures a long lifespan for your cooler
Drip Tray- Removable, dishwasher-safe drip tray in each iBottleLess cooler
Rugged Construction- Heavy-duty polyethylene cabinets and stainless steel reservoirs make iBottleLess coolers ultra-durable
Dual Float System- Top of the line dual float back up system prevents water leakage
Cold Water Thermostat- Adjustable settings designed for maximum efficiency.
Hot Tank On/Off Switch- Easily accessible switch
Compare Benefits Across All Models
On-Wall Brita®

Hydration Station®

iMini

iStandard

iStainless

Commercial Grade Construction
Description
Discount:
$1.00
$ 0.10
Compressor
Description
Discount:
$2.00
$ 0.20
Stainless Steel Tanks
Description
Discount:
$3.00
$ 0.30
Hot/Cold Water Output
Description
Discount:
$4.00
$ 0.40
Compatible With Most 5 Gallon Bottles
Description
Discount:
$5.00
$ 0.50
All Items
Description
Your Total:
$10.00
Tax
Easy Installation
Not only are our coolers built to last, they also include everything you need to get set up quickly!  When you purchase your iBottleLess™ water cooler today, you'll receive your first water purification system, installation kit, and step-by-step installation instructions.
And don't worry, if you have any questions about your iBottleLess™ cooler or filter, our trained technicians are just a phone call away at 888-416-8705.
Make the switch to an iBottleLess™ water cooler today and you'll make a healthy and money-saving change that will last for years to come.