Bottleless Water Coolers San Francisco
San Francisco, one of California's oldest cities, is also one of its most innovative. From its ties to Silicon Valley to the cultural diversity of The Mission District and Chinatown, San Francisco is a city that cares about its residents and the impact their water use has on the surrounding environment. Implemented by the San Francisco Public Utilities Commission, "The Watershed and Environmental Improvement Program is a 10-year, $50 million, program to proactively manage, protect and restore environmental resources affected by our system operations." (http://www.sfwater.org/index.aspx?page=487)
The water quality of San Francisco is perfectly fit for human consumption as it is tested dozens of times a month for purity and clarity. We at iBottleless.com are also committed to San Francisco's residents and we highly suggest using a bottleless water cooler to make that great SFO tap water an unlimited drinking water source.
We have noticed that San Francisco residents and business owners are making great strides toward environmental sustainability by using bottleless water coolers from iBottleless.com. Filtered at the point of use, that is, the water passes through your tap, becoming thirst-quenching, clean water with that highly-sought "bottled water quality" taste.
Using a bottleless water cooler in San Francisco, you can achieve astounding results in plastic reduction and the levels of waste that make their way into the bay. Our standard micron carbon filtration system uses activated carbon to filter out large sediments and reacts with the water to eliminate trace contaminants such as arsenic, lead, and that chlorine taste.
Also available is reverse osmosis for when you want absolutely nothing but the pure water molecule. Through a 4-step system, reverse osmosis attached to your bottleless water cooler, pressure forces water through a series of membranes bearing pores smaller than the size of the head of a pin.
You can own your bottleless water cooler in San Francisco for the price of a few months' rental from costly bottled water delivery services.
Eliminate the workman's compensation costs associated with injuries due to lugging 48 pound 5-gallon bottles
Keep the Bay clean!
Installation of the bottleless water cooler is remarkably easy
Maintenance of the bottleless water cooler is a snap with filter replacements required every 6-8 months or 1500-gallons, whichever comes first.
We left our hearts in San Francisco, so leave your bottleless water cooler issues in our hands!
We offer FREE SHIPPING to all cities in California!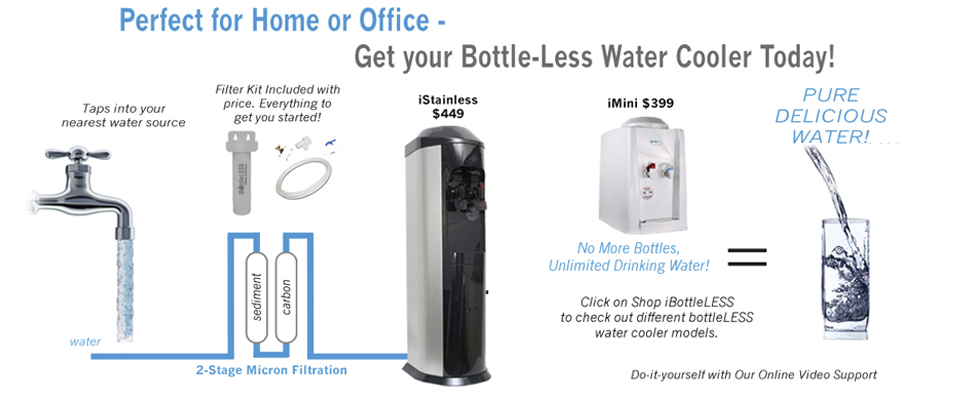 When you purchase a bottleless water cooler from iBottleless.com, you have the option of a small counter-top filtered water dispenser, a standard black or white bottleless water cooler, or a slim-lined stainless steel bottleless water cooler for office use.