Bottleless Water Coolers Los Angeles
To some, Los Angeles is heaven on earth. It is the home of crystal-clear swimming pools, consistently good weather, and terrific beaches. However, Los Angeles is a major contributor to the bottled water crisis. Bolstering the celebrity lifestyle, Los Angeles is a city of gourmet dining, active fitness, and a culture attached to disposability. Water has played a critical role in the development of Los Angeles, with irrigation a crucial component of turning what was once a desert into a sprawling metropolis.
With trucks clogging freeways such as the 101 and the 405, why add water trucks to the mix? Plus, bottling water in Southern California contributes to the already colossal amount of smog which can make the air a very unsettling shade of brown. The upside, though, is that Los Angeles residents (or Angelinos) are taking strides to clean up Southern California's environment. Subject to hundreds of tests a month for purity, the water in Los Angeles is absolutely suitable for drinking.
For your home or office in Los Angeles, an excellent alternative to consuming and pitching bottled water is to find a water cooler with filters or "bottleless water cooler." Not only does using a bottleless water cooler in Los Angeles eliminate the need for oversized trucks on overcrowded streets and highways, it saves thousands of tons of plastic from local and global landfills.
You can own your bottleless water cooler in Los Angeles for the price of a few months' rental from costly bottled water delivery services.
While you and your employees may be fitness-minded, with a filtered water cooler, you will never need to lug 48-pound 5-gallon bottles ever again.
With a carbon filtration system in your bottleless water cooler, Los Angeles water is eliminated of trace elements of chlorine, arsenic, and lead.
Installation of the bottleless water cooler is remarkably easy
Maintenance of the bottleless water cooler is a snap with filter replacements required every 6-8 months or 1500-gallons, whichever comes first.
We offer FREE SHIPPING to all cities in California!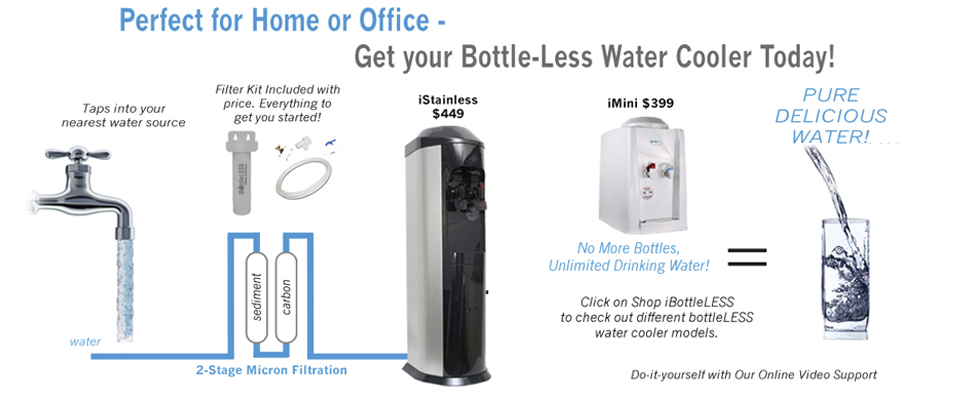 When you purchase a bottleless water cooler from iBottleless.com, you have the option of a small counter-top filtered water dispenser, a standard black or white bottleless water cooler, or a slim-lined stainless steel bottleless water cooler for office use.