Bottleless Water Coolers Boston
Home of the Celtics, the Red Sox, and the Patriots, Boston sure knows how to keep its citizens entertained. Did you also know that the City of Boston's city government goes above and beyond to ensure safe drinking water? In fact, according to their website, "The City of Boston is working with state and federal agencies and the Town of Brookline to develop a series of long-term measures to address water quality and flood control issues associated with the Muddy River." Boston Water Quality
Tested many times a month for clarity and purity, the water of Boston is fit for more than just washing clothes or watering the lawn. It is fit for human consumption. If you want to make environmental sustainability and personal health a priority, it is recommended that you use filtered tap water as opposed to bottled water or costly bottled water delivery. We at iBottleless.com applaud Boston's efforts to maintain clean drinking water and we would love to provide you with all of the necessary resources to make an informed decision regarding drinking water for your family, friends, or coworkers.
Filtered at the point of use, that is, the water passes through your tap, becoming thirst-quenching, clean water with that highly-sought "bottled water quality" taste. Using a bottleless water cooler in Boston is a fantastic decision. Our standard micron carbon filtration system uses activated carbon to filter out large sediments and reacts with the water to eliminate trace contaminants such as arsenic, lead, and that chlorine taste.
Also available is reverse osmosis for when you want absolutely nothing but the pure water molecule. Through a 4-step system, reverse osmosis attached to your bottleless water cooler, pressure forces water through a series of membranes bearing pores smaller than the size of the head of a pin.
You can own your bottleless water cooler in Boston for the price of a few months' rental from costly bottled water delivery services.
Eliminate the workman's compensation costs associated with injuries due to lugging 48 pound 5-gallon bottles
Keep your harbor clean!
Installation of the bottleless water cooler is remarkably easy
Maintenance of the bottleless water cooler is a snap with filter replacements required every 6-8 months or 1500-gallons, whichever comes first.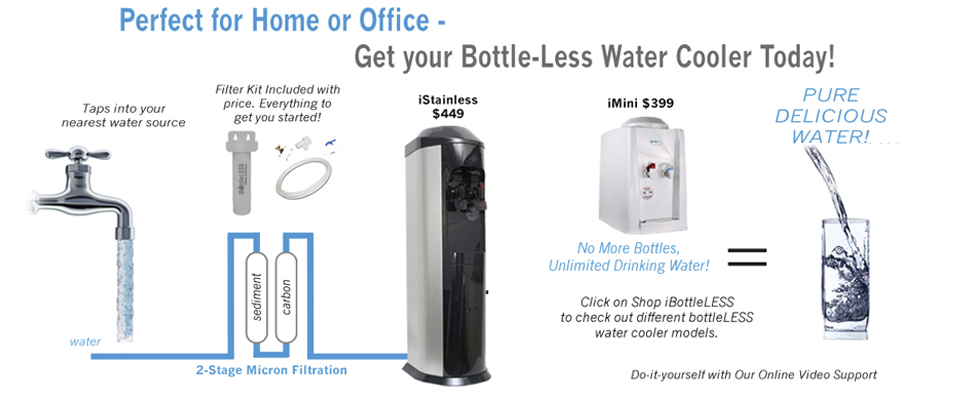 When you purchase a bottleless water cooler from iBottleless.com, you have the option of a small counter-top filtered water dispenser, a standard black or white bottleless water cooler, or a slim-lined stainless steel bottleless water cooler for office use.