Make The Switch. Go iBottleLess™ in 3 Easy Steps!
Step 1. Choose Your iBottleLess™ Cooler
iBottleLess.com™ is the nation's #1 bottle-free or tankless water cooler provider!
Click the SHOP page and select from a variety of free-standing or space-saving countertop iBottleLess™ water cooler systems that best meet your family or office needs.
Every iBottleLess™ water cooler model is built to last and includes everything you need to get started the first day you receive the unit, including a water filter (certified for 1,200 gallons), installation kit, and step-by-step instructions to get started. And, every cooler instantly supplies clean, pure, hot and cold drinking water at the touch of a button.
Step 2. Place Order Online or Over the Phone
You can order online or call us to place your order which includes FREE Shipping to the contiguous United States.
888-416-8705
Your iBottleLess™ water cooler comes equipped with a quick installation kit and quick-start guide to help you get started with ease. If you prefer to have a professional technician install your new iBottleLess™ unit, we have certified technicians that can help you*. Just give us a call for more details and to get your installation scheduled today.
Step 3. Enjoy Fresh Filtered Drinking Water!
Your order is shipped within 1-2 business days from completion of a successful order, and will arrive within 2-3 business days using ground shipping options such as UPS or FedEx. Shipping is FREE* to you; included within the contiguous United States with every new iBottleLess water cooler order.
Our quick start guide is designed to help you get up and running quickly, but phone support is also available to help you get started. Once your cooler is installed you can enjoy unlimited fresh, clean drinking water water at the push of a button! Better than Bottled Water… You'll love getting in your eight glasses of water every day with less plastic waste and expense!
Our bottle-free water coolers are designed to be almost completely maintenance-free. All you need to do to is change the easy-on, easy-off water filter twice a year. And, our replacement filters are available for purchase right on our website.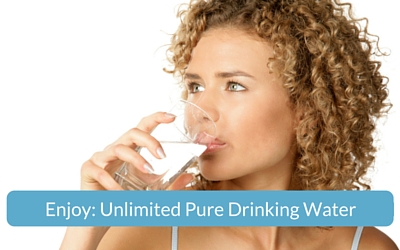 *Alaska and Hawaii not included. Additional fees for shipping fees outside the contiguous 48, or added installation service (where available) are applicable. We will only schedule installation services on units purchased directly with iBottleLess.com. Installation services can be ordered at a later date; separate from your equipment or supply order.
BottleLess Water Cooler Benefits
Eliminate costly and unnecessary bottled water deliveries!

No more running out of fresh drinking water!

No more lifting 42 lb. bottles!

No more land-filling empty plastic water bottles!

Lower Your Household or Business Supply Costs!

Save Time. Save Money. Save the Environment. And, Stay Healthy!